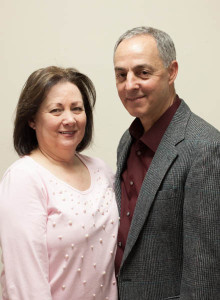 Russell & Margie Marino were married on October 7, 1977. They are both from Baton Rouge and have three grown children (Russell Jr, Heather, & Christopher) and nine grandchildren. Russell graduated from Baton Rouge High ('65) and LSU ('70) prior to becoming a pilot in the USAF, during which he flew C-130 aircraft in the Vietnam War.  The next 35 years he worked in the corporate business world in various management and sales & marketing positions in the national market. 
Margie graduated from Woodlawn High ('70) prior to working in several jobs including secretarial, administrative assistant and art sales. God's goodness has brought them through many challenges in their lives and they are eternally grateful for His mercy and grace. 
They started attending Hosanna First Assembly in the summer of 1998 and Russell has served as an Elder for the past 16 years. He is also an Ordained Minister at HFA and serves as the Executive Director at Hosanna Christian Academy.